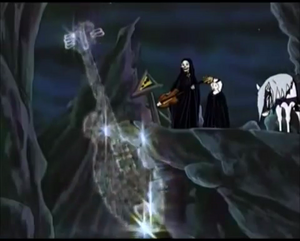 Music is an antagonist that plays a part in
Soul Music
. It is an old deity that claims that it created the universe.
Under construction.
~ Voice of the Music (Soul Music) while inside the guitar.
~ Imp Y Celyn attempts to get rid of the Music (Soul Music) by dropping it down a ravine. However, he loses his grip on the cart and falls as well.
~ The Music (Soul Music) has a conversation with Imp and Susan about its motives of using Imp.
~ Death demands that the Music (Soul Music) bring Imp, Glod, Lias, and Asphalt back. The Music (Soul Music) refuses and Death defeats it by playing an 'empty chord' on the guitar it used as a vessel, before smashing it.
The Music (Soul Music) can take on the form of Imp Y Celyn's face, only because Imp allowed it to control him initially.
Ad blocker interference detected!
Wikia is a free-to-use site that makes money from advertising. We have a modified experience for viewers using ad blockers

Wikia is not accessible if you've made further modifications. Remove the custom ad blocker rule(s) and the page will load as expected.