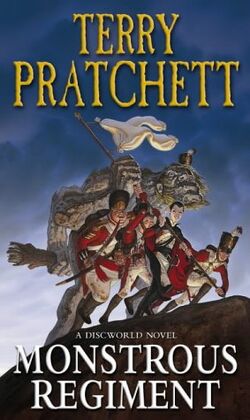 Monstrous Regiment is the 31st novel in Terry Pratchett's Discworld series. It takes its name from the anti-Catholic 16th century tract by John Knox, the full title of which is The First Blast of the Trumpet Against the Monstrous Regiment of Women.
The cover illustration of the British edition, by Paul Kidby, is a parody of Joe Rosenthal's photograph Raising the Flag on Iwo Jima.
Plot summary
Edit
The story is primarily based in Borogravia, a highly conservative country whose people live according to the increasingly psychotic decrees of its favored deity, Nuggan, who is believed dead. The list of "Abominations Unto Nuggan" include Borogravia's neighboring states, resulting in little Borogravia having a particularly bellicose nature. The uncertain whereabouts of Nuggan leads the inhabitants of Borogravia to deify their Duchess, to whom they pray instead.
The protagonist of the tale is Polly Perks, who takes her name from the folk song Sweet Polly Oliver. Polly's brother Paul is missing in action after fighting in the Borogravian army, so she sets off to join the army in order to find him. Women joining the army are regarded as another "Abomination Unto Nuggan". To ensure her entrance into this male-only institution, Polly decides to dress up as a man (women doing so is also an Abomination Unto Nuggan) and starts calling herself Oliver. While signing-up she meets one Corporal Strappi, and the corpulent Sergeant Jackrum. Despite her apprehensions regarding Strappi she confirms her intent to enter the army by "kissing the Duchess"; that is, she kisses a painting of the noble. We see that there is a shortage of troops, with a Vampire named Maladict, a Troll, and an Igor also being allowed to join up. Gradually, Oliver discovers all is not well or good in the army. The remainder of the book is about her struggle to come to terms with this new world, and to find her brother.
Translations
Edit
Чудовищна команда (Bulgarian)
Podivný regiment (Czech), ISBN 80-7197-242-8
Monsterlijk regiment (Dutch)
Le Régiment monstrueux (French)
Weiberregiment (German)
Potworny regiment (Polish)
External links
Edit

! colspan="3" | Reading order guide
Ad blocker interference detected!
Wikia is a free-to-use site that makes money from advertising. We have a modified experience for viewers using ad blockers

Wikia is not accessible if you've made further modifications. Remove the custom ad blocker rule(s) and the page will load as expected.