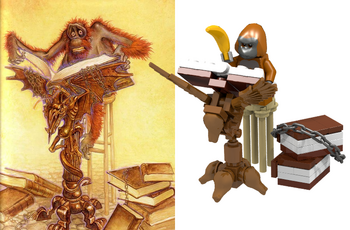 Lego Discworld is a campaign to produce a official Lego set based on the Discworld series.
This is possible though the website Lego Cuusoo.  Projects on Lego Cuusoo require 10,000 supports (votes) to get reviewed for production.
In January 2015, the campaign officially received 10,000 votes and moved onto the review stage.
Set Concept
Edit
The core concept of the project is to produce a model of Great A'tuin, the four elephants, and the disc.
In addition to the Discworld, five character themed vignette will be included.  The five chosen figures are Death, Granny Weatherwax, Sam Vimes, Rincewind, and the Librarian. Death, Granny Weatherwax, Sam Vimes and Rincewind were chosen as they form the foundation of nearly all the stories of the Disc. The Librarian is included as he is in nearly every Discworld novel.
Figure Designs
Edit
Although five figure vignettes are planned, at this point in time only two have been completed, the Librarian and Sam Vimes. 
Official Support
Edit
After the project reaches 10,000 support. Lego will decided on whether or not they want to produce a product based on the Discworld.  If they choose to move forward at that point they will contact Terry Pratchett to address licensing.
Terry Pratchett has not directly stated his opinion on the project but he did retweet a link to the project to his twitter followers. 
Ad blocker interference detected!
Wikia is a free-to-use site that makes money from advertising. We have a modified experience for viewers using ad blockers

Wikia is not accessible if you've made further modifications. Remove the custom ad blocker rule(s) and the page will load as expected.